Propaneva is reader-supported. We may earn a commission through products purchased using links on this page. Learn more about our process here
Knowing how to remove propane tank from grill safely is a simple DIY task you can learn from home. Before anything else, you should be smart enough to use a propane tank and grill. There are two crucial things to keep in mind. One, propane gas expands when exposed to warmth. It is most likely to expand and cause the tank valve to literally pop off.
Secondly, you don't want gas to leak, and you certainly don't want it to come into contact with ignition.  That's why it's important to keep your propane tank away from heat sources as much as possible. By doing so, it makes it difficult for gas to pool in the event of a seepage. Once you have understood these two things and confirmed that you are safe, it's now time to remove the tank from the grill.
How to Safely Remove Propane Tank from Grill
To do the job perfectly and with ease, you need, though optional, a simple tool – a crescent wrench – and a little preparation. As we have mentioned, it's always safe to do it outdoors where the gas cannot collect. Keep in mind that although a gas tank may be empty, it cannot be totally empty; oftentimes there is some remaining gas. However, some grills like the Weber 61011001 Genesis II E-310 have a built-in gauge that tells you exactly how much gas is remaining in the cylinder.
Turn off the grill and close the main valve
This whole process needs your commitment to ensuring safety and taking care of both the grill and the propane tank. Remember, disassembling the grill is equally as important as setting it up, you don't want to damage items in the process. Compressed gas cylinders are, according to The George Washington University,highly dangerous when abused.
Ensure the grill is turned off. Check that all the knobs are to the "off" position. If yours is a full-size propane tank-grill model, you must also turn off the tank valve (check somewhere at the top of the tank). If you use a Q series or any other portable propane model that utilizes a disposable propane tank, simply ensure the knob is set to the off position.
Twist off pressure regulator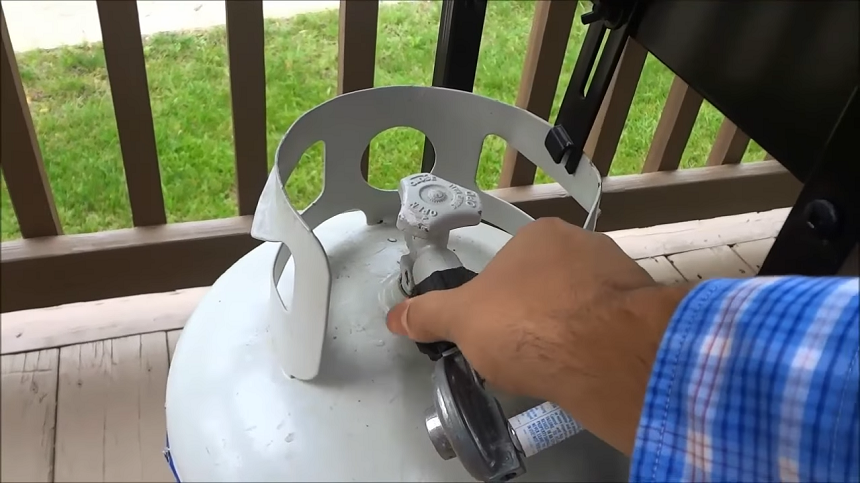 The pressure regulator is yet another thing to consider when disassembling the grill and the propane tank. Once the gas is turned off, try to unhook the attached pressure regulator. Twist it off clockwise to remove it, and remember to do it carefully because the regulator is a delicate item on the grill. Its purpose is to normalize gas flow into the grill by detecting irregular pressure downstream. It may stop working as necessary if tampered with.
Remove the tank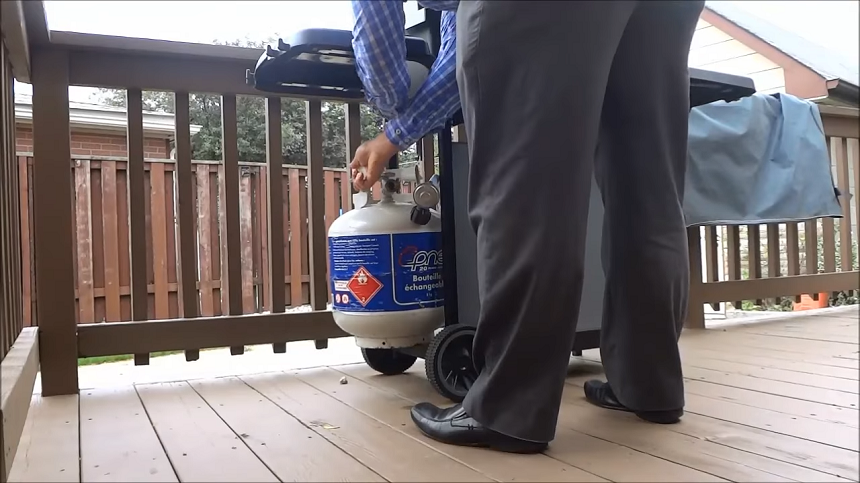 The next step is to locate the propane tank and you might have to open the doors on your barbeque to get to yours, especially if you use Char-Broil 463375919, whose enclosed design ensures the security of the tank and also boosts its overall appearance. In some grills you'll find the tank at either the right or left side. Once you have located the tank you can turn it off, or simply rotate the knob to the right in a clockwise manner just to ensure it's off.
Now take the tank and remove it from the barbeque. In most cases you might be able to just pull the tank away but other times you have to loosen some metal above the area where the tank sits. This is where the crescent wrench comes in handy – use it to loosen the restraining screw (s).
Alright, it's now time to take the empty tank to the store and have it swapped for a new one that is completely full.
Tank handling safety
According to the Department of Homeland Security, gas fires result in about 10 deaths and 100 injuries every year. That's why you should handle gas tanks carefully to ensure your safety and its security. Here are few things to do:
Ensure the tank is secured in an upright, firm position.
Ensure it sits in a well ventilated area, away from heat and extreme sunlight.
Protect the valve.
Keep the tank away from potential sources of ignition.
If you are using a vehicle, keep the cylinder away from the passenger seats/living area.
Remember to cap all the outlets to prevent seepage.
If you aren't transporting but just handling the gas cylinder:
Don't use it in living spaces.
Don't leave it in closed vehicles.
Use it outdoors.
Extinguish any open flames and smoking materials.
Cordon off any areas you suspect have gas leakage.
In case of an emergency, contact your local propane supplier or the police.
NOTE: Propane tank handling safety boils down to the ability to apply common sense. Always ensure that your appliances are at their best condition. In this case, ensure the cylinder is well ventilated and keep it away from heat. Also ensure that you use it only for its intended purpose; don't use a propane stove to hear your vehicle when it's designed for cooking.
Additionally, always supervise your children and have them understand the rules of safety when handling propane cylinders. Teach them:
Don't operate a propane-powered appliance without adult supervision
Don't play with or around propane grills and tanks.
To keep away toys and paper from fireplaces.
Avoid flammable substances altogether.
FAQs
We answer a few common questions people ask, about how to disconnect propane tank from grill.
How to remove propane tank from weber grill?
As we have mentioned a moment ago, understanding how to unhook a propane tank isn't an uphill task. The first step is to have all knobs to the "off" position. Next, safely remove delicate items such as the pressure regulator. Finally, use the crescent wrench to unscrew the bolts that hold the tank in place. While at it remember to prioritize your safety!
How to remove propane tank from char broil grill
Locate the tank under the grill, turn off the knobs and valves on the system, and securely remove your cylinder.
Final Thoughts
Everyone loves propane grills. It hits differently during Summer, and you should enjoy it fully as much as your neighbor. However, they pose serious danger especially if you don't know how to handle the cylinder properly. We hope that you have learnt how to remove propane tank from grill, because that's one way to ensure your safety when firing up your barbeque.